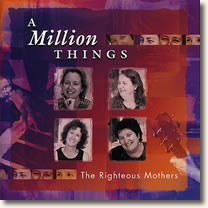 RELEASED
2002
FROM THE BAND
Celebrating creativity (A Million Things), social justice (Star Spangled Banner, Lesbian Honeymoon Holiday, Louise and Roger), maturing relationships (Pillow Talk, Sweet Place), and of course love (Dance with Me, Love Is the Mother of Us All) was a cathartic antidote to the second Bush Presidency.
SONGS
A Million Things
Please Don't Bury Me with My Filofax
Dance With Me
Lesbian Honeymoon Holiday
Boring Meeting
Louise and Roger
Sweet Place
Elliott, Notary Public
Pillow Talk
Star Spangled Banner
Love is the Mother of Us All
CREDITS
All songs arranged by The Righteous Mothers
Produced, engineered, mixed and mastered by Alicia Healey
Songs noted were Produced by Linda Waterfall
Additional engineering: James Sullivan at JB Productions in Bellevue, WA
Production Coordinator: Lynn Grotsky
Graphic Design: Melanie Pratt
Photographer: Pat Justis
Keyboard: Clare H. Meeker
Guitar: Wendy Davis Crocker
Bass: Lisa Brodoff
Percussion: Marla Beth Elliott
Mandolin: Alicia Healey (Please Don't Bury Me with My Filofax and Lesbian Honeymoon Holiday)
Drums, Conga, Triangle: Mark Ivester (Boring Meeting and Pillow Talk.
A million thanks to our families, friends and fans who for the last 20 years have helped us follow the music to where it wants to take us. We look forward to the next 20!