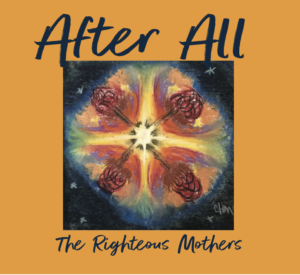 RELEASED
Fall 2020
FROM THE BAND
It is with great joy that we make available to you our 8th album, After All.  For the past two years, we have been busy recording this collection of our most recent work. We were tempted to tinker with it for another six months but the pandemic altered our plans.  Following much discussion (after 38 years, you can imagine we have quite the discussions!), we decided that exactly now is the time for these songs to come into the world.  In this collection are songs that we hope will cheer you up, inspire you, provoke reflection, and have you singing along.  Please enjoy them and share them widely. 
 As always, the songs on this album are all our original work except for the final track, Love Out of Nowhere by the late Linda Waterfall, our friend, mentor, producer, and collaborator.  We are pleased to honor her memory and feature many of her friends singing and playing on this arrangement of her transcendent song. 
SONGS
Catch the Righteous Mothers
Misogynistic Heterosexual Men
Female Philanthropist
Prayer for the Teenage Son
Dinosaur Brain
Fat is Good
There and Here
Banjo Playing Lawyers
Shooting Star
Love Out of Nowhere
CREDITS
All songs written and arranged by The Righteous Mothers © 2020
except Love Out of Nowhere by Linda Waterfall © 1994.
Produced, recorded and mastered by Alicia Healey at The Winterblue Room, Seattle, WA.
You can listen to and purchase digital copy HERE.
Purchase physical CD HERE.