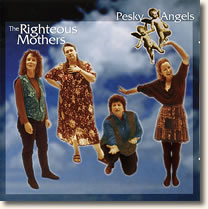 FROM THE BAND
By this time we were having fun incorporating some of our beloved "roots music" genres into our songwriting: think blues and Bo Diddly. Our campy side flourished (The Homophobia Tango, 60,000 Naked Hoosiers, Staying Together). Our friend and mentor and guest guitarist Nina Gerber,  inspired our instrumental expression especially on Crazy for Carbonation.   This album's closing song, That's the Kind of Friend I Am was arranged in the studio, barely in time to make it onto the recording. 
SONGS
60,000 Naked Hoosiers
Crazy for Carbonation
Pesky Angels
I Live Me Life Long Here
Don't Dial That Number
So Miserable
Don't Pursue
Slack Tune
Untitled Meditation #27
By Sunset
Homophobia Tango
Staying Together
That's the Kind of Friend I Am
CREDITS
Produced by Linda Waterfall
Recorded and Mixed by Larry "Larz" Nefzger at Triad Studios, Redmond, WA
DAT Mastering by Larx Nefzger
Production Coordination by Lynn Grotsky
Design by Duwamish Publishing and Design, West Seattle, WA
Photographs by Mary Fitzgerald
All vocals by The Righteous Mothers: Lisa Brodoff, Wendy David Crocker, Marla Beth Elliott and Clare H. Meeker
All songs written and arranged by the Righteous Mothers, copyright @1994.